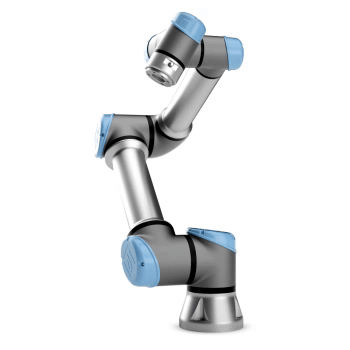 Automation is the competitive advantage you need.
Manufacturers around the world are turning to robotic automation systems to help solve labor shortages, increase productivity, and improve product quality.
Phillips partners with Haas Automation, Universal Robots, and expert integrators to offer a variety of robotic process automation solutions to meet the specific needs in the manufacturing industry. Our industrial automation systems provide a cost-effective, flexible, and safe robotics solution for a wide range of production tasks.
When you have a need for machine tending, Phillips has your solution.
"ECPI prides itself in offering a blended learning program that utilizes both an online and hands-on approach in educating our students. We feel the Universal Robot offers a unique proposition by allowing our students to learn robotics through an online simulator and actually seeing their program work on a live UR robot even if they are hundreds of miles away!"
Our employees love the UR, it took a job that people hated to do and automated it! We never intended on running lights out, but with our robots, it was so easy to do so!
Adding the UR robot to our shop floor was a lot easier than trying to hire a new operator and it actually paid for itself in the first year!
The Haas Robot Package 2 is great for industrial machining!
All-inclusive design, with plug-and-play capabilities to Haas medium vertical machining centers and ST-20 through ST-35 turning centers

Interfaces directly with the Haas control
All setup and operation is done through the Haas control and remote jog handle
Single gripper included; double gripper available
25 kg part capacity
Includes CE-compliant safety guard fencing
Complete Haas Mill & Lathe Machine Tending Solutions with a cobot from Universal Robots starting as low as $63,000.
Solution Package Includes Robotiq Hand-E Gripper, Cart, Installation, Client Support, and Dealer Assistance.
The Haas Robot Package 3 is perfect for 50kg+ Parts!
All-inclusive design, with plug-and-play capabilities to Haas vertical machining centers and turning centers
Directly interfaces with the Haas control
Single gripper included
50 kg part capacity 
Includes CE-compliant safety guard fencing
Still not sure which automation solution 
is best for you?
Let us help!
Our simple set of questions will only take you 3 minutes and set you off in the right direction to understand which automation solution is the best fit!
Select your local 360 Team by region:
With Phillips 360, you have a dedicated local team of experts looking out for your business. Sales, service, and applications professionals, all zeroed in on your success. This "single minded" focus on your objectives allows us to:
//   Minimize Downtime…with faster response times
//   Prevent the Unexpected…with early, targeted maintenance
//   Innovate on Your Behalf…with new technologies, software, and solutions in sync with your business.
With Phillips 360, you're being served from every angle. Sales. Service. Applications. One highly coordinated team devoted to your machines, your business, your goals.